GROW AND MAKE MORE sales
We have a line of products which sell themselves. Our range of DIY Kits provide consumers with a way to host a party, spend a date night, create memories with children, make gifts which are meaningful and to give gifts which aren't forgotten. Each is hand-made in Portland Oregon, with an emphasis on sustainable business practices and quality products.
BULK WHOLESALE PURCHASING
Purchase directly through our wholesale portal. You will first need to receive an emai invitation by reaching out to [email protected]
PRICING
Our Kits when purchased at wholesale are 50% discount from MSRP with a purchase minimum of a case pack. Shipping is the responsibility of purchaser and requires providing a shipping account number.
If you have questions please contact our sales team by email at [email protected] or phone 877 242 9041.
Why Grow and Make?
Grow and Make provides a comprehensive line of do-it-yourself kits for individuals, families, gift making, gift giving, parties and special occasions. Our wholesale do-it-yourself kits are complete and ready for use by consumers. The distinctive packaging and comprehensive instructions create happy customers who share their experience with friends. We will work with your business to get our crafting kits in front of your customers.   Grow and Make has developed and manufactures every kit we sell in Portland, Oregon. We place an emphasis on quality and sustainability in our products. We source our supplies from US companies. We take great pride in our products and brand.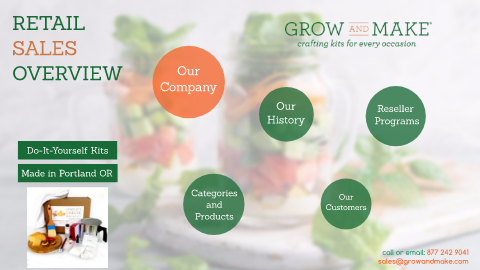 Watch Our Sales Presentation