By Grow and Make Contributing Editor Kristina Strain
Grow and Make's Green Holiday Series
Make gifts out of junk. It might not sound appealing when worded that way, but taking a thoughtful and creative approach to your gift list is a terrific way to green your holidays. Many of the everyday items we think of as disposable junk are just begging for a second life as something else.

Often, all it takes is a coat of paint and a little glue to transform a little throwaway something into a stylish and useful gift. Start by looking at things not as trash but as an artist's raw materials, and a whole new world opens up.
For this project, we're going to make a welcome gift for any owner of a fireplace or woodstove: pinecone fire-starters. Made from natural pinecones and melted-down old candles, these are as simple as they are eco-friendly.
Materials:
Pinecones– these should be squat and wide, the sort that will stand up straight on their base. Try searching for pinecones at a nearby campground or state park.
Old candles, preferably soy or beeswax.
Optional: for coloring the wax, some old or broken crayons.
A tapered container that will comfortably fit your pinecone in the bottom. Try old votive candle cups, empty yogurt cups, or pudding cups.
A saucepan full of simmering water, and a glass measuring cup, for melting the wax.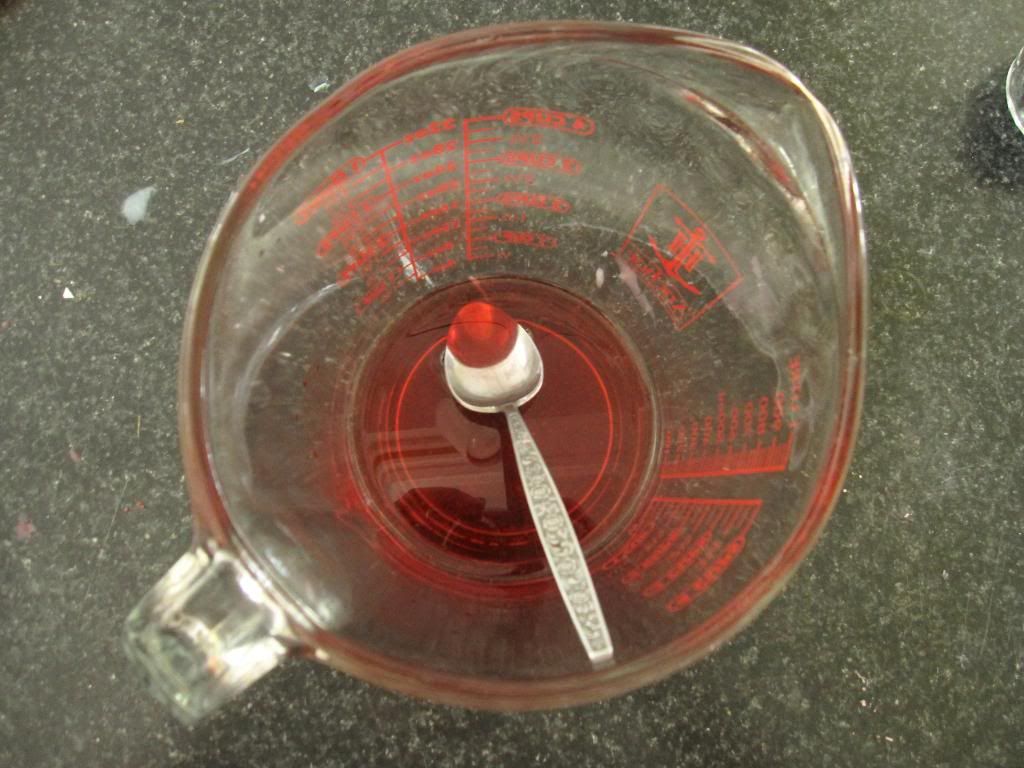 Place your old candles in the glass measuring cup. Try to pry the old candle wax out of its container, if it's in one, before doing this. Set the measuring cup into the simmering water, and watch it closely as the wax begins to melt. Once the wax is completely melted, fish out the old wicks, and add a few small crayon chunks if desired, to color the wax.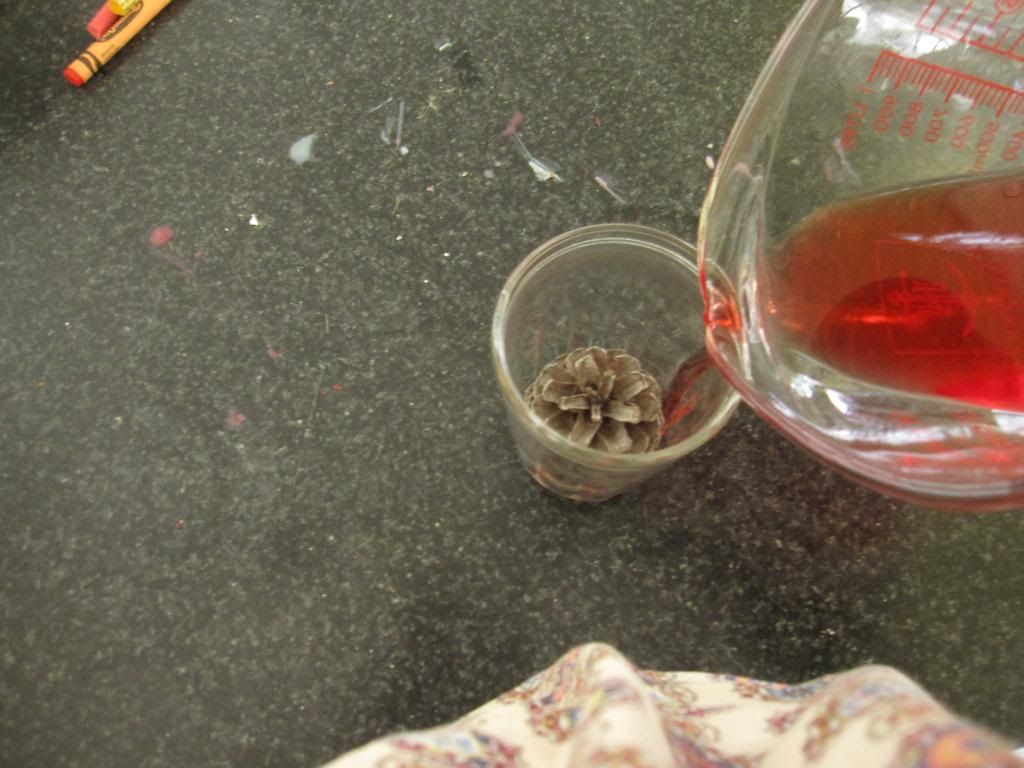 Set a pinecone, pointy end up, in the container you've set aside for this purpose. Slowly pour a little wax down into the container, trying to keep it off the pinecone as much as possible. You don't need much, just enough to cover the entire bottom of the container. If you have multiple pinecone-suitable containers, you can keep pouring more pinecone fire-starters until you run out of wax.
Let the pinecone cool for about half an hour, then put it in the freezer for another half-hour to set. At this point, you should be able to remove the pinecone from the container by gently rocking and pulling the pinecone upwards. Make as many pinecone fire-starters as you have pinecones and wax for; they're best given in a bundle!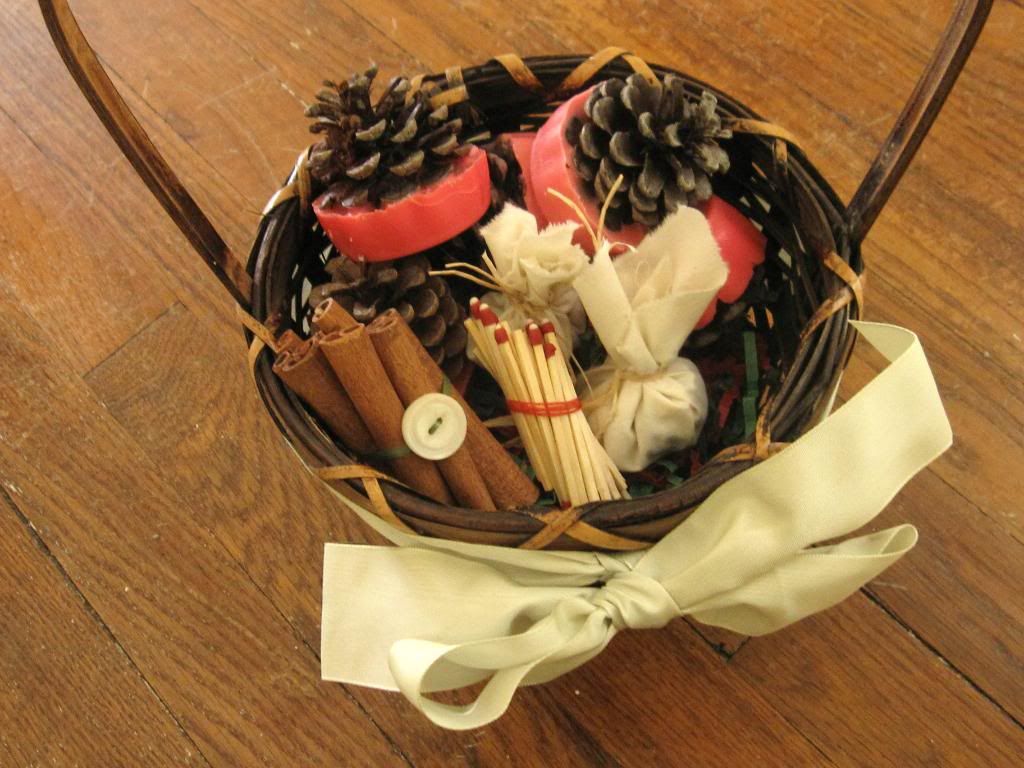 Make a sweet and warming holiday gift basket filled with homemade fire-starters, mulled cider (or wine) sachets, matches, and cinnamon sticks to burn in the fire. A vintage button, threaded with a scrap of ribbon, dresses up the cinnamon sticks, while a length of red thread wraps the matches. Tie everything up with a nice bow, and include a bottle of local wine or a pound of organic shade-grown coffee alongside for a gift anyone would love.
This gift would be perfect for newlyweds, empty-nesters, or any aficionado of wood fires and cozy evenings.
Here they are: all gifts, all green, all in the same place. Click away!
Green Gift Ideas: Salad Dressing Kit with Infused Vinegars
Green Gift Ideas: Mosaic Fridge Magnets
Green Gift Ideas: Make a Recycled Bulletin Board
Green Gift Ideas: Pinecone Fire Starters
Green Gift Ideas: Altoids tin Message Board