Green Holiday Gift Ideas: Infused Vinegars
By Grow and Make Contributing Editor Kristina Strain
Growandmake.com 2011 Green Holiday Series
Make gifts out of junk.
It might not sound appealing when worded that way, but taking a thoughtful and creative approach to your gift list is a terrific way to green your holidays. Many of the everyday items we think of as disposable junk are just begging for a second life as something else.
Often, all it takes is a coat of paint and a little glue to transform a little throwaway something into a stylish and useful gift. Start by looking at things not as trash but as an artist's raw materials, and a whole new world opens up.
To make infused vinegars, all you need is some small glass bottles, fresh or dried herbs, and plain vinegar to get started.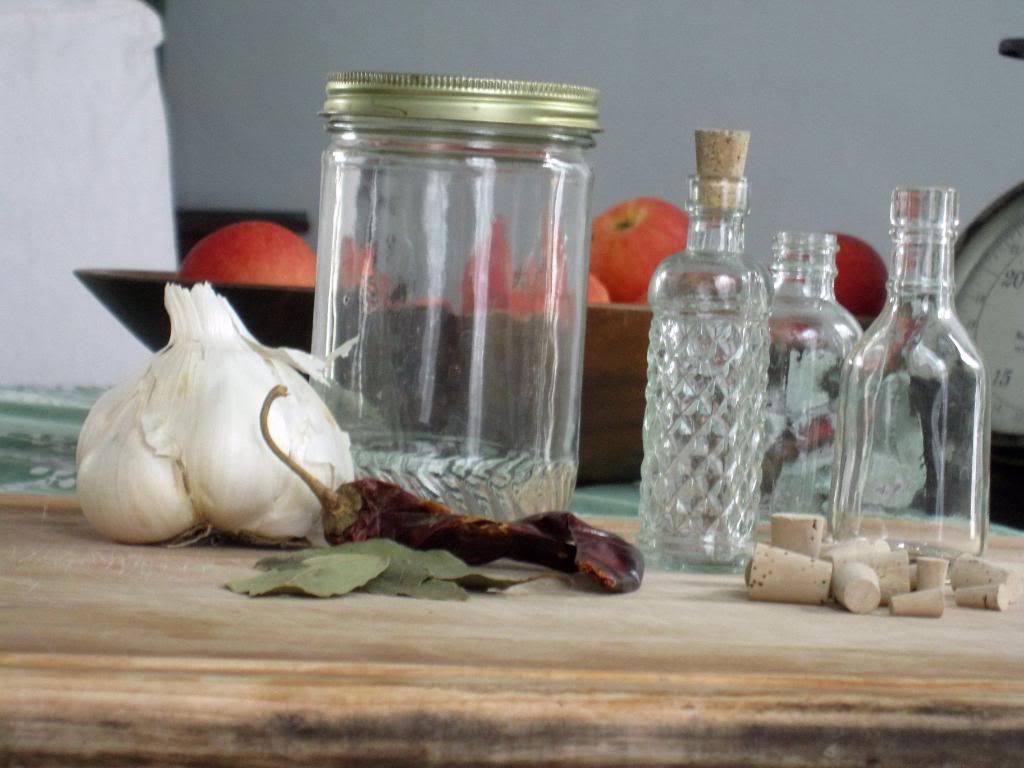 Materials:
1 clean screw-top glass jar
Enough plain (white, red wine, or apple cider) vinegar to fill said jar
A variety of things to flavor the vinegar: herbs, dried red peppers, sun dried tomatoes, garlic, etc.
Small, clean glass bottles
Corks, for stoppering the bottles
A small funnel
Time required:
Three weeks for the vinegars to infuse.
Sources:
Corks and decorative glass bottles can be found at most large craft stores.
Making infused vinegars is unbelievably easy. First, add some seasonings to your clean glass jar. If you're using fresh herbs, pack the jar full. Dried materials are more potent, so use less. Here are some terrific combinations to try, to make truly unique infused vinegar:
Lavender
Sun-dried tomato
Red pepper, rosemary, and garlic
Dill and chives
Lemon and black pepper
Blueberry
Choose a plain vinegar to act as a "base" for your infused concoction. Mild white wine vinegar is a good, all-purpose choice, as it won't overwhelm the seasonings. Apple cider vinegar makes a great base for infused fruit vinegars, and anything with resinous herbs (i.e. rosemary) would be well-suited to red wine vinegar. Fill the jar up to the top with vinegar, and screw on the lid. Let sit in a dry, dark place for three weeks to develop the flavor.
Using a funnel, carefully transfer infused vinegar into a clean glass bottle. Create a label, if desired, and insert a cork to keep it closed. That's all there is to it!
Infused vinegars such as these make attractive and useful gifts. Try gifting a variety of infused vinegars, along with a bottle of fancy oil (such as walnut or grapeseed) and a
decorative cruet
to a gourmet friend. Tuck springs of fresh rosemary into the basket for extra flair.
The uses of infused vinegars are many. Lavender vinegar is terrific on fruit salad or fresh strawberries; any fruit-infused vinegar can be added to a glaze for meats or roasted vegetables. Vinegars infused with garlic or herbs make appealing additions to homemade salad dressings. Start with a tablespoon of vinegar, add three tablespoons of oil, plus a sprinkling of salt and pepper, and you'll be whipping up your own dressings in no time flat.
The sustainability angle:
Store-bought infused vinegars are often sold in teeny little heavily-decorated bottles. Translation: lots of packaging for the product. By bottling your own infused vinegars in re-purposed containers, you can cut down on waste and save a little money, too.
Interested in growing your own herbs for use in infused vinegars? Check out our
indoor herb garden kit
.
Here they are: all gifts, all green, all in the same place. Click away!
Green Gift Ideas: Salad Dressing Kit with Infused Vinegars
Green Gift Ideas: Mosaic Fridge Magnets
Green Gift Ideas: Make a Recycled Bulletin Board
Green Gift Ideas: Pinecone Fire Starters
Green Gift Ideas: Altoids tin Message Board
Video: Make Soy Candles at Home